Frontline Cars' first EV restomod promises to maintain analogue driving experience
MGB restomod specialist Frontline Cars has relaunched with a pair of bespoke sports cars based on the classic MGB GT, led by an electric conversion that pairs an electric motor with a fully functional manual gearbox.
Dubbed the Bee GT, the electric model is intended to be "engaging and a pleasure to drive without compromise", in spite of the shift to a modern powertrain. Its Hyper 9 100V motor is said to provide torque delivery comparable with a conventional combustion engine's, revving to 9000rpm. It sends 114bhp and 162lb ft through the rear wheels, allowing the Bee GT to dispatch the 0-62mph sprint in 8.8sec.
The motor allows the Bee to start and stop in any of its five gears, according to Frontline, and it cannot stall as a conventional combustion engine would. Moreover, the Bee can be driven exclusively in second and third gear, if so desired.
A 40kWh battery provides a claimed range of 140 miles – the "range needed for enjoyable electric car ownership", said Frontline. Recharging the Bee from empty to full takes around five hours using a 7kWh charge point.
The Bee is significantly lighter than most electric sports cars. Whereas an Abarth 500e weighs 1410kg, the MG conversion tips the scales at just 1186kg, spread evenly over each axle. 
Inside, the Bee replaces the MGB's rev counter with a power delivery gauge, displaying how much of the motor's potential – or energy recuperation – is being used. The remaining range is displayed on the fuel gauge.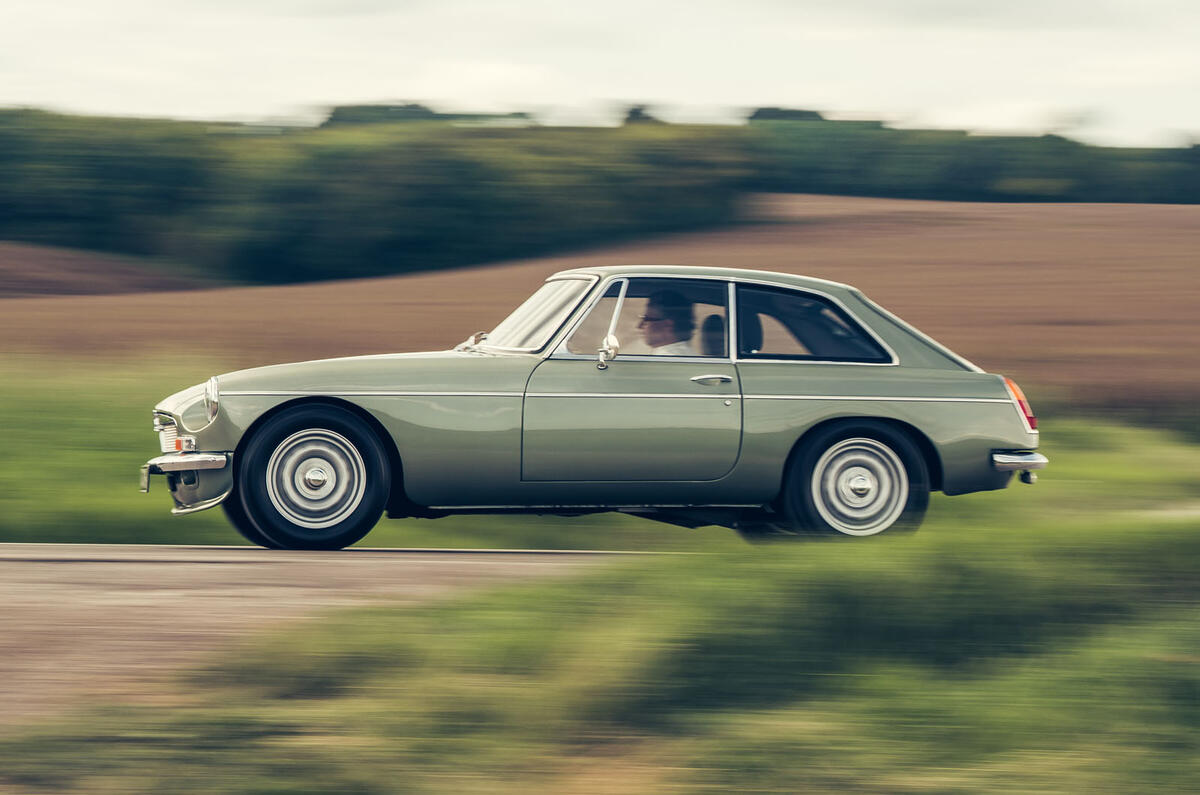 The exterior styling tweaks are similarly subtle, with a set of period-correct Dunlop racing wheels and a more aggressive front chin spoiler. It is offered as both a coupé and a roadster, with the latter dropping the 'GT' moniker.
Deliveries are set to begin in 2024. Frontline will also offer electric conversions for existing customers.
Frontline LE60: Specs and release date
The Bee is joined in the firm's renewed line-up by the LE60, a successor to the LE50, which it launched a decade ago.
The Frontline LE60 is more explicitly a restomod, wearing hot-rod-esque de-chromed bodywork and packing a modified 4.8-litre Rover V8. This sends 375bhp and 297lb ft to the rear wheels – almost four times the vigour of an original four-pot MGB – via a five-speed Tremec manual gearbox and limited-slip differential. The 0-60mph sprint takes an estimated 4.0sec.
The chassis has been overhauled to support the huge uplift in power, with a wider footprint, strengthened bodywork and 310mm vented brake discs. It also features a bespoke suspension set-up from Oxfordshire-based manufacturer Nitron.
Despite the reinforcements and larger powerplant, the LE60 remains slightly lighter than the Bee GT, at 1122kg. Like its electric stablemate, this is split 50:50 front to rear.
Frontline plans to produce 30 LE60s in total, with deliveries set to start next year.